Biography François Klaus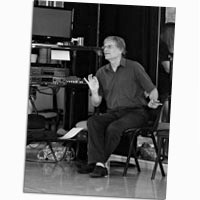 Born in Cannes, France, François Klaus began dancing at the age of nine with the Russian teacher Julie Sedova and three years later began studying with Marika Besobrasova in Monte Carlo. François's first contract as a professional dancer was at the age of 17, with the Geneva Ballet under the directorship of Serge Golovine.
John Cranko offered François the opportunity to join his company in Stuttgart and to continue working with him as a soloist in Munich. François danced his first leading role (Prince Siegfried in Cranko's Swan Lake) at the age of 22 and was promoted to principal dancer the following season. In Munich he met his wife, an Australian dancer, Robyn White, who had also been engaged by Cranko and was to pursue her career as a soloist with Hamburg Ballet.
François himself later joined the Hamburg Ballet. Under John Neumeier it became one of Europe's leading companies, and for 18 years, François was one of the significant influences in the company. Singled out by critics for his fine artistic interpretation, his musicality, and enormous concentration, François was the original male lead in many of the Neumeier creations.
His roles included King Arthur in King Arthur's Saga, Oberon in A Midsummer Nights Dream, Don Juan, Romeo and Mercutio in Romeo and Juliet, the Prince in The Sleeping Beauty, King Ludwig in Neumeier's Swan Lake, and Petrus in St. Mathew's Passion. He also danced the male leads in ballets by Cranko, Balanchine and Béjart and partnered Natalia Makarova, Marcia Haydée, Carla Fracci, Violette Verdi, Judith Jamison and Patricia McBride.
Hamburg Ballet toured extensively in Europe, Japan, and North and South America. Following its first New York season, François's performance in Neumeier's Mahler III was selected in 1981 as the best performance by an established dancer by the critics of the American publication, Dancemagazine.
During his first years with Neumeier, François began to choreograph and his first full-length work, The Little Mermaid, opened in 1979 for TIK Theatre, Hamburg. He choreographed various children's works in collaboration with Hamburg Symphony Orchestra, a benefit gala for the restoration of the St Thomas Church in Hamburg, and a full-length evening for the 800-year celebration festivities of the city of Hamburg. In 1991 he took up his first post as an Artistic Director in Bern, Switzerland.
After three years with Bern State Theatre, François formed his own independent company, Ballett Art. This was artistically very successful and in October 1996, François was awarded a Doron Cultural Prize for his choreography and his contribution to dance in Switzerland.
François was offered the position of Artistic Director of Queensland Ballet in 1997 following an international search. He held the position from January 1998 to December 2012 with a clear vision to create a dynamic company that provided his dancers with a consistently creative environment. 
As Chief Choreographer, François Klaus created nearly 100 ballets, a third of them full length works. During this time his works received an international audience: The Queensland story of Cloudland with Sean O'Boyle and Blackwood ensemble, Awakening with Taikoz percussionists Kevin Man and Keryn Joyce, Timeless Dances and Concerto for Didgeridoo in collaboration with William Barton were met with great critical and public acclaim in 2006, 2007 and 2009 in Germany, Switzerland and Denmark. Original productions of The Little Mermaid and Alice in Wonderland were draw-cards for Asian tours to Singapore (2007), Japan (2008) and China (2011.)
Internationally renowned dance writer Horst Koegler attributed the growth in reputation of the Queensland Ballet to François Klaus. By the end of his tenure, audiences numbered in excess of 57,000 compared with less than 20,000 in 1998 with box office income matching this 300% growth over that same period of time.
For his work in Australia, François was awarded a Perform/4MBS award for choreography in 1999 and 2000, and in 2002 he was nominated for a Helpmann Award. He also received a Centenary Medal for distinguished service to the arts in 2001 and an Honorary Doctorate from Griffith University in 2012